Traffic Barrier Parking boom gate with Boom Barrier automatic gate barrier System is a type of barrier gates, wihch is used in highways, railways, communities, parking lots, supermarkets, toll stations, etc.

Infrared anti-smashing is the installation of infrared ray facing devices on both sides of the entrance and exit gates. During the fall of the gate lever, if a vehicle enters and the infrared rays are blocked, the gate lever will automatically rise and the response will be relatively rapid. However, the range of infrared radiation is small, and it is easily interfered by rain and snow.
Traffic Barrier Parking Boom Gate with boom barrier Automatic gate barrier System Specification:

| | |
| --- | --- |
| Size | 260*220*1020mm |
| Input Voltage | AC 220V±20% or AC 110V±20% |
| Working Voltage | DC 30V/10A |
| Motor Power | 250W |
| Main board Power | 15W |
| Working Temperature | -40℃~80℃ |
| Relative humidity | RH≤95% |
| Communication mode | Port control communication |
| Speed | 115200B/S |
| Communication Distance | 400m |
| Remote Frequency | 433MHz |
| The Max boom | 4m(φ38mm round boom/86*44mm octagonal boom) |
| Opening speed | 1~4S |
| Closing speed | 3~4S |
| Output port driver capability | 50V/1000mA |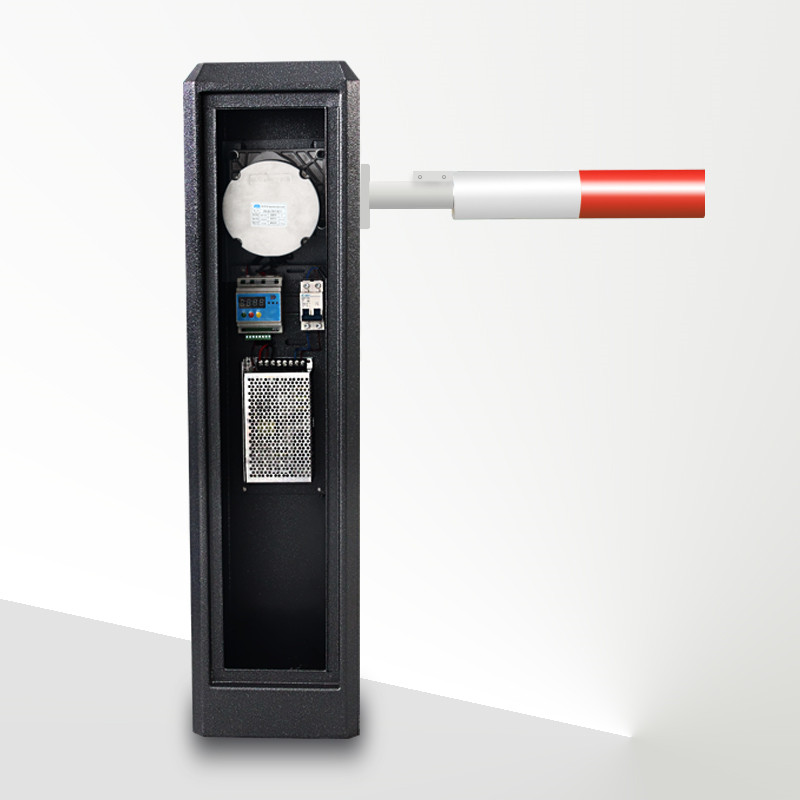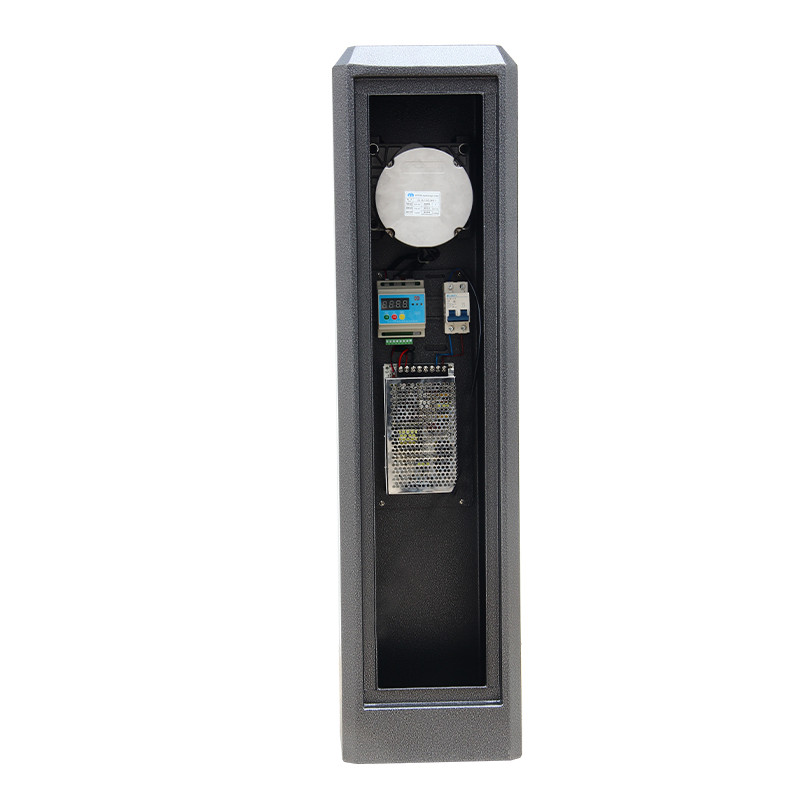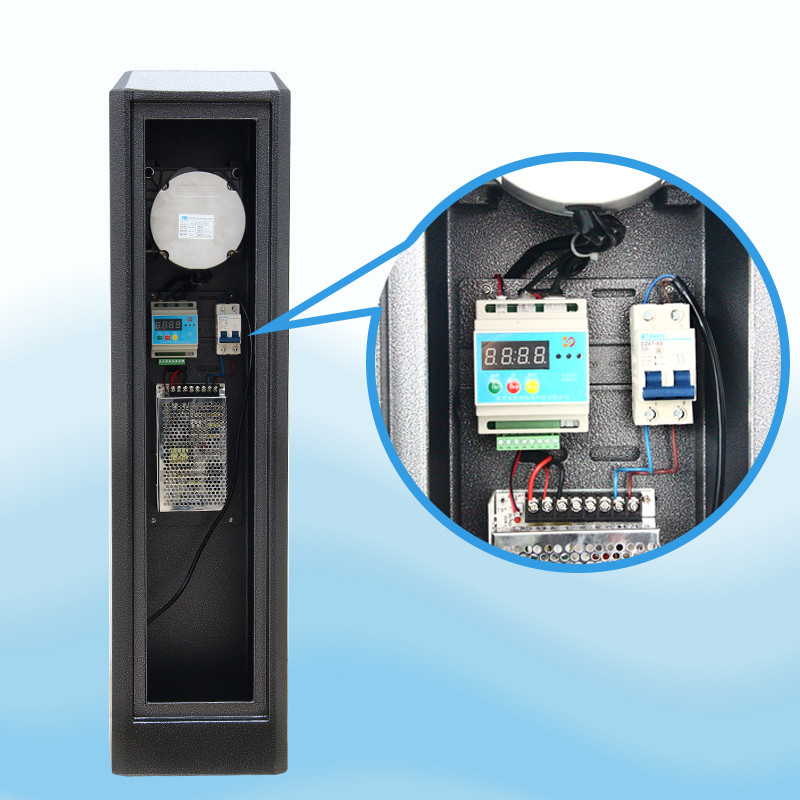 The Feature Of Traffic Barrier Parking Boom Gate with Boom Barrier Automatic Gate Barrier System:
1.No spring and no linkage.(Big power can driver directly)
2.No worm and gear
3.The boom barrier can be installed in both left and right direction.
4.Small size(1/3 of traditional one)
5.All parameters can be set by mobile App.
6.Opening speed:0.5s~4s, closing speed:2s~4s
7.Rebound against obstacles
8.The boom can be lift if power off
9. Queuing and fleet function
Drawing And Introduction Of Traffic Barrier Parking Boom Gate with Boom Barrier Automatic Gate Barrier System: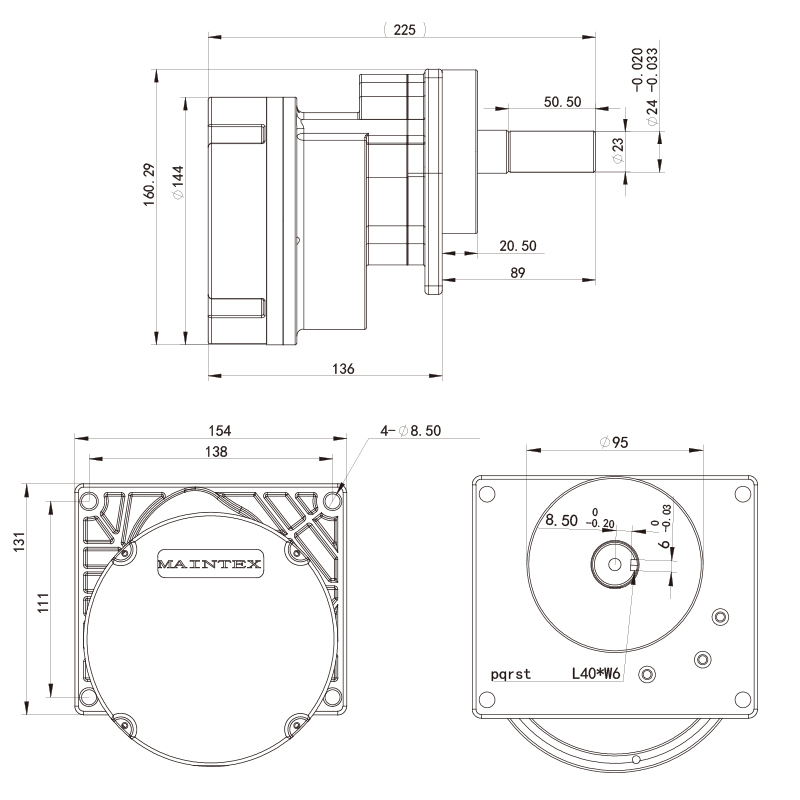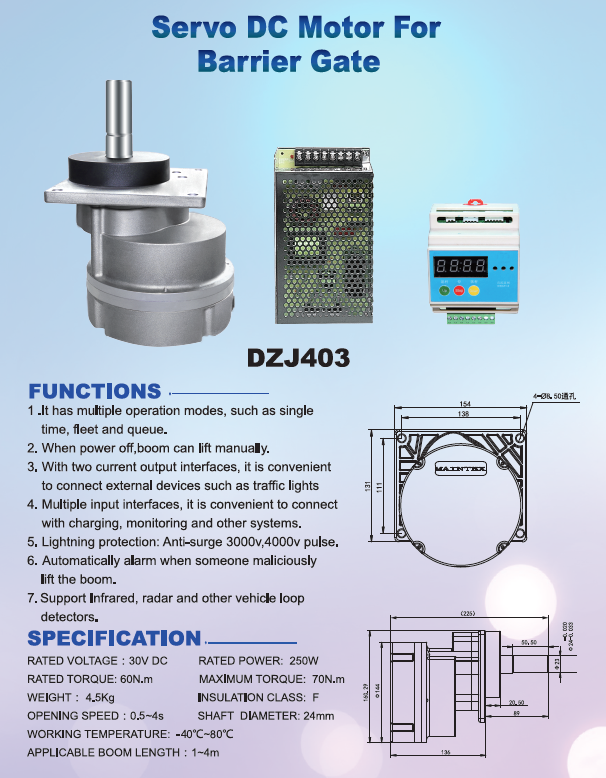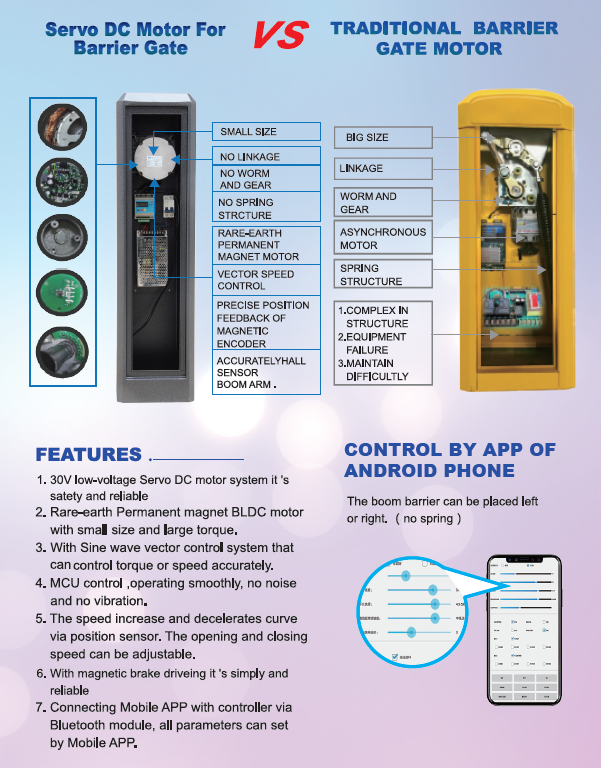 All characteristics above are customizable, if you want Worm Gear Motor, Stepper Motor, Brushless DC Motor, Brush Motor and other motors' OEM / ODM service, please contact us for further information.