24BYJ48-859 Reduction Stepper Motor
is a type of Gear reduction motor and also belongs to Gear Motor.
Gear Reduction motor is a component of a gear reducer and a motor. This type of component is also commonly referred to as a gearbox motor or a geared motor. It is usually assembled and assembled by a professional reducer manufacturer.
Gear reduction motors are widely used in automatic mechanical equipment, especially in packaging machinery, printing machinery, corrugated machinery, color box machinery, conveying machinery, food machinery, three-dimensional parking equipment, automatic storage, three-dimensional warehouse, chemical, textile, dyeing and finishing equipment, etc. Micro gear reduction motors are also widely used in the fields of electronic locks, optical equipment, precision instruments and financial equipment.
24BYJ48-859 Reduction Stepper Motor Parameters
MODEL
ITEMS
SPEC
24BYJ48-859

Rated Voltage

4VDC

Phase

4

Reduction Ratio

1/64

Steo Angle

5.625°

Exciting Method

1-2

Direct-current Resistance

20Ω±7%(25°C)

No-load pull-in Frequency

≥600Hz

No-load pull-out Frequency

≥1100Hz

pull-in Torque

≥70gf.cm(4VDC.400Hz)

Detent Torque

≥500gf.cm

Insulation Resistance

≥50M Ω 500VDC

Dielectric Strenght

600VAC(min)

Insulation Class

B

Noise

≤40dB

Friction Torque

600-2940gf.cm

Terminal Sec

5P*2.0
Drawing of 24BYJ48-859 Reduction Stepper motor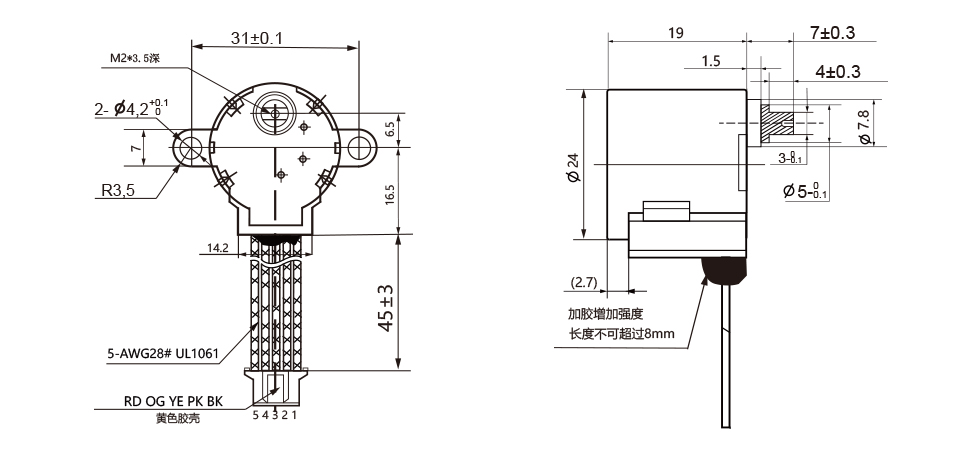 Applications of Stepper Motor
• 3D printing equipment
• barrier gate
• Printing presses
• Automatic toilet seat cover
• Electric tailgate
• Nano sprayer
• Vending machines
• Aircraft – In the aircraft industry, stepper motors are used in aircraft instrumentations, antenna and sensing applications, and equipment scanning
• Automotive – The automotive industry implements stepper motors for applications concerning cruise control, sensing devices, and cameras. The military also utilizes stepper motors in their application of positioning antennas
• Chemical – The chemical industry makes use of stepper motors for mixing and sampling of materials. They also utilize stepper motor controllers with single and multi-axis stepper motors for equipment testing
• Consumer Electronics and Office Equipment – In the consumer electronics industry, stepper motors are widely used in digital cameras for focus and zoom functionality features. In office equipment, stepper motors are implemented in PC-based scanning equipment, data storage drives, optical disk drive driving mechanisms, printers, and scanners
• Gaming – In the gaming industry, stepper motors are widely used in applications like slot and lottery machines, wheel spinners, and even card shufflers
• Industrial – In the industrial industry, stepper motors are used in automotive gauges, machine tooling with single and multi-axis stepper motor controllers, and retrofit kits which make use of stepper motor controllers as well. Stepper motors can also be found in CNC machine control
• Medical – In the medical industry, stepper motors are utilized in medical scanners, microscopic or nanoscopic motion control of automated devices, dispensing pumps, and chromatograph auto-injectors. Stepper motors are also found inside digital dental photography (X-RAY), fluid pumps, respirators, and blood analysis machinery, centrifuge
• Scientific Instruments –Scientific equipment implement stepper motors in the positioning of an observatory telescope, spectrographs, and centrifuge
• Surveillance Systems – Stepper motors are used in camera surveillance
The high-speed dome camera is a highly integrated product that integrates the pan-tilt system, communication system, and camera system. The pan-tilt system refers to the driving rotating part, and the communication system refers to the control of the motor and the image and signal In the processing part, the camera system refers to the all-in-one movement. Between several major systems, a main control core CPU and power supply are connected horizontally. The power supply part is powered by the major systems. In many places, it is powered by diodes, triodes and other micro-currents. The core CPU is the basis for the normal operation of all functions.
   The principle of the high-speed dome camera is actually roughly the above mentioned. Specifically, the high-speed dome camera uses a "precision differential high-speed dome camera stepper motor" to achieve fast and accurate positioning and rotation of the high-speed dome. All of this is achieved through instructions issued by the CPU. Then write the image of the camera and the functions of the camera into the CPU of the high-speed dome to realize the image transmission when controlling the pan/tilt, and it can transfer many functions of the camera, such as white balance, shutter, aperture, zoom, focus And other functions can be controlled at the same time.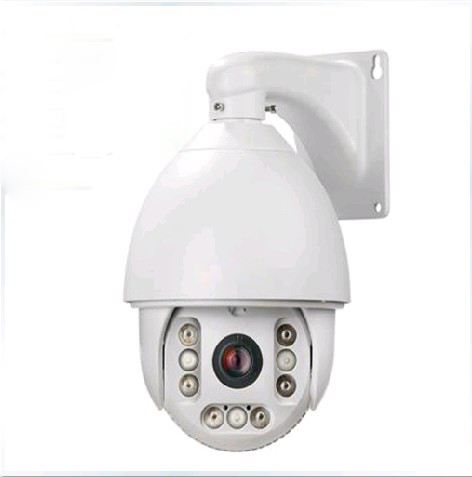 General high-speed dome cameras are divided into the center part, the shell part and the accessories part. Any manufacturer's high-speed dome has a core part that uses a frame to unify the package all-in-one machine core, the control and decoding motherboard and the motor pan/tilt system, and then the core part and the shell are connected with screws or other methods. The center of the sphere is the core part, and the shell generally has a variety of appearances, such as the appearance of Pelco, the appearance of Panasonic, and the appearance of own design. The shell is generally made of aluminum alloy, but also plastic. Aluminum alloy is generally divided into two kinds of shells: casting and stamping. Aluminum alloy is better than plastic, and stamping is better than casting. The lower shell is a transparent cover. The transparent cover must be an optically transparent cover to ensure that the light transmission rate and image are not deformed. At the same time, anti-aging, anti-vandalism, dust-proof and other issues must be considered. The accessory part generally includes a bracket part, a heater part, and a fan heating part. Brackets include wall mount brackets, boom brackets, surface mount ceilings, and embedded ceilings. No brackets are required. Generally, outdoor balls are equipped with fan heating devices, while heating devices are only optional in severe cold areas. Indoor high-speed dome cameras In principle, there is no heat dissipation and heating part. Accessories also include a power supply, which is generally powered by a 24 volt 2 to 3 ampere transformer.
   high-speed dome camera has several main hardware components, first, then slip ring, then power supply and control board. The driving belt is also very important.
   The communication problem of the high-speed dome camera is also related to the communication protocol and communication method. The communication protocol refers to the communication protocol selected when the high-speed dome camera communicates with the host system, such as pelco, man code, Panasonic, Phillips, etc. The communication mode refers to the communication mode used by these communication protocols, such as 485 communication mode, 232 communication mode, 422 communication mode, and coaxial video control communication mode. Generally speaking, high-speed domes use 485 communication mode, and each communication protocol Different manufacturers.
Brushless Motor 步进电机 stepper motor 无刷直流电机 深圳网站建设公司 企业网站优化 彩灯公司 净水器品牌 泸州净水器 福州净水器 珠海净水器加盟 天津净水器加盟 重庆净水器加盟 沈阳净水器加盟 杭州净水器加盟 汕头净水器加盟 苏州净水器加盟 温州净水器加盟 宁波净水器加盟 昆山净水器加盟
Looking for ideal Camera Motor Manufacturer & supplier ? We have a wide selection at great prices to help you get creative. All the IP Camera Motor are quality guaranteed. We are China Origin Factory of High-speed Dome Camera Motor. If you have any question, please feel free to contact us.