Maintex Customized 24V Brushed Gear Gear Motor For Sole Cleaning Machines
The geared motor is an integrated body of the reducer and the motor. Such an integrated body is also commonly referred to as a Gear motor or a geared motor.
The Gear Motor can be divided into Gear reduction motor, Geared Stepper Motor , Brushless gear motor, Carbon Brush Gear Motor and other types.

Typical application areas: Electric drying racks, electric curtains, sole cleaning machines.
Parameters:
MODEL
ITEMS
SPEC
ZD52-2440-48
Driving Voltage
24VDC
Output Power
40W
No-load Speed
48±5rpm
No-load Current
≤0.8A
Load Speed
38±5rpm
Load Current
≤0.4A
Peak Torque
≥5N·m
Reduction ratio
1:62
Length
76mm
Diameter
52mm
ZD52 series:
Product type
Voltage
(VDC)
Power
(W)
No-load speed
(RPM)
No-load Current
(A)
load speed
(RPM)
Load current
(A)
load torque
(N.m)
Reduction ratio
length
(mm)
Outer diameter
(mm)
ZD52-22040-48
220
40
48±5
≤0.2
38±5
≤0.5
≥5
1:62
76
52
ZD52-2440-48
24
40
48±5
≤0.8
38±5
≤0.4
≥5
1:62
76
52
Parameters can be customized according to your actual demands, for detailed informations please contact with us or leave a message.

Drawing: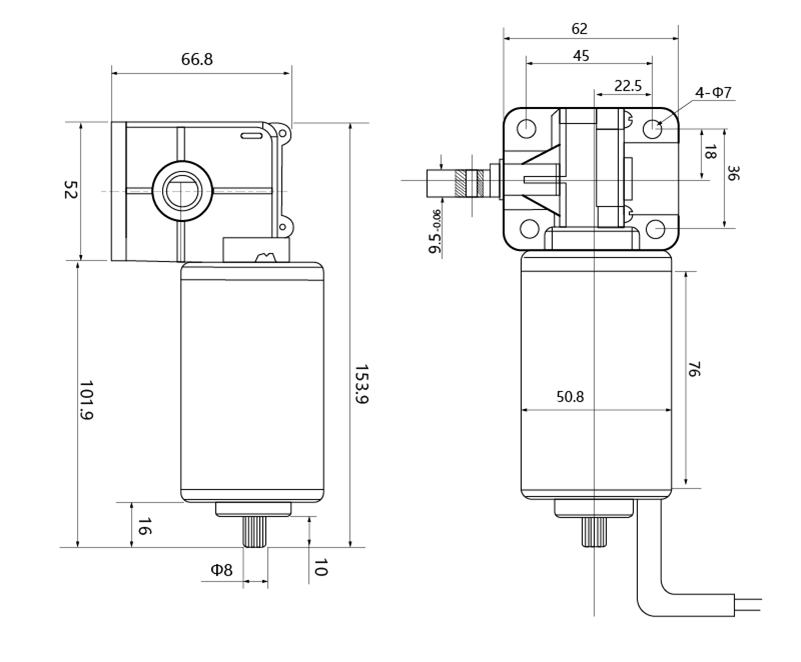 Applications of Gear Motor
• Smart homes
• Car drives
• Robot drives
• E-commerce logistics warehouses
• Precision instruments
• Industrial automation equipments
• Electronic products
• Precision machineries
• Electric lifting equipments

• Agricultural seeders
• Electric garages
• Car electric shutters
• Canvas machineries
• Household appliances
• Automatic hoe machines
• Bread machines
• Putter equipments

• Automatic oil press machinces
• Cooking machines
• Electric drying racks
• Electric curtains
• Sole cleaning machines
• Sweeping robots
• Oil pumps
• Air pumps
• Water pumps

All characteristics above are customizable, if you want Worm Gear Motor, Stepper Motor , Brushless DC Motor, Brush Motor and other motors' OEM / ODM service, please contact us for further information.