25BY26-080
Permanent Magnet Stepper Motor
is a type of Permanent magnet stepper motor and also belongs to Stepper Motor.
Permanent magnet stepper motors use a permanent magnet (PM) in the rotor and operate on the attraction or repulsion between the rotor PM and the stator electromagnets.
MAINTEX's PM stepper motors are widely applied in many innovative applications, including: computer equipment, photographic systems, optoelectronic devices, valve control, ATM equipment, CNC machine, automatic winding machines, electronic clocks and medical equipment, etc.
25BY26-080 Permanent Magnet Stepper motor Parameters
MODEL
ITEMS
SPEC
25BY26-080

Driving Voltage

12±10%VDC

Phase

2

Exciting Method

2-2

Exciting Mode

Bipolar

Steo Angle

15°

Rotor Inertia

0.06gcm²

Rotation

CW/CCW

Resistance

16±10%Ω(25°C)

Inductance

8.0±20%mH

Max.pull-in Frequency

600Hz

Max.pull-out Frequency

800Hz

Holding Torque

100gf.cm

Detent Torque

20gf.cm

Insulation Resistance

100MΩ 500VDC

Noise

≤40dB
Drawing of 25BY26-080 permanent magnet stepper motor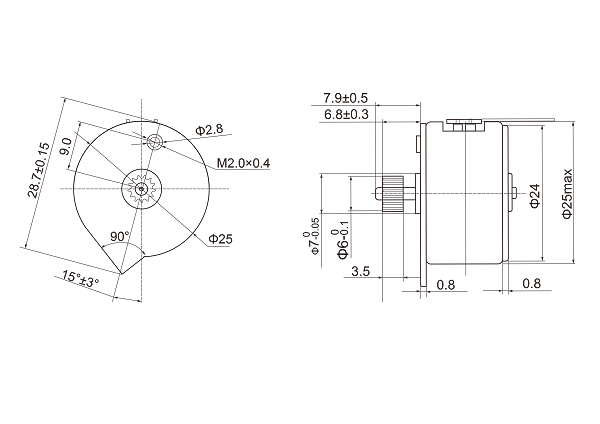 Applications of Stepper Motor
• 3D printing equipment
• barrier gate
• Printing presses
• Automatic toilet seat cover
• Electric tailgate
• Nano sprayer
• Vending machines
• Aircraft – In the aircraft industry, stepper motors are used in aircraft instrumentations, antenna and sensing applications, and equipment scanning
• Automotive – The automotive industry implements stepper motors for applications concerning cruise control, sensing devices, and cameras. The military also utilizes stepper motors in their application of positioning antennas
• Chemical – The chemical industry makes use of stepper motors for mixing and sampling of materials. They also utilize stepper motor controllers with single and multi-axis stepper motors for equipment testing
• Consumer Electronics and Office Equipment – In the consumer electronics industry, stepper motors are widely used in digital cameras for focus and zoom functionality features. In office equipment, stepper motors are implemented in PC-based scanning equipment, data storage drives, optical disk drive driving mechanisms, printers, and scanners
• Gaming – In the gaming industry, stepper motors are widely used in applications like slot and lottery machines, wheel spinners, and even card shufflers
• Industrial – In the industrial industry, stepper motors are used in automotive gauges, machine tooling with single and multi-axis stepper motor controllers, and retrofit kits which make use of stepper motor controllers as well. Stepper motors can also be found in CNC machine control
• Medical – In the medical industry, stepper motors are utilized in medical scanners, microscopic or nanoscopic motion control of automated devices, dispensing pumps, and chromatograph auto-injectors. Stepper motors are also found inside digital dental photography (X-RAY), fluid pumps, respirators, and blood analysis machinery, centrifuge
• Scientific Instruments –Scientific equipment implement stepper motors in the positioning of an observatory telescope, spectrographs, and centrifuge
• Surveillance Systems – Stepper motors are used in camera surveillance
The effect of high temperature on stepper motor

Excessive temperature has many negative effects on the stepper motor. In the case of overload operation, the stepper motor will generate a lot of heat, which is easy to cause problems such as damage to the stepper motor.
Too high temperature will first demagnetize the magnetic material of the motor, resulting in a decrease in torque and even loss of step. Therefore, the maximum temperature allowed by the motor surface should depend on the demagnetization point of different motor magnetic materials; generally speaking, a qualified stepper motor magnetic The demagnetization point of the material is above 130 degrees Celsius, so the external temperature of the stepper motor is completely normal at 80-90 degrees Celsius.

The surface temperature of the stepper motor can be controlled to reach a balance. The temperature of the stepper motor is often high voltage and high current, because users need high speed and high torque. For example, the surface temperature of a three-phase stepper motor often reaches 95 degrees or more. , Increasing the voltage and current can increase the speed and torque. Although the heating of the stepping motor does not cause damage to the stepping motor, it will also cause temporary demagnetization after the temperature is too high, which is too fast.
Working under long-term high temperature conditions will also cause permanent magnetic attenuation and coil aging. This is the main reason why some stepping motors have insufficient torque after more than a year.
Gear Motor 永磁电机 Brushless Motor 电机厂家 深圳做网站公司 关键词排名优化 花灯制作 净水器加盟 宜宾净水器 泉州净水器批发 珠海净水器批发 天津净水器批发 重庆净水器批发 沈阳净水器批发 杭州净水器批发 汕头净水器批发 苏州净水器批发 温州净水器批发 宁波净水器批发 昆山净水器批发
Looking for ideal
PM Stepper Motor
Manufacturer & supplier ? We have a wide selection at great prices to help you get creative. All the 25BY26 are quality guaranteed. We are China Origin Factory of 25BY26 Motor. If you have any question, please feel free to contact us.