20BY25-007
Permanent Magnet Stepper Motor
is a type of Permanent magnet stepper motor and also belongs to Stepper Motor.
Permanent magnet stepper motors use a permanent magnet (PM) in the rotor and operate on the attraction or repulsion between the rotor PM and the stator electromagnets.
MAINTEX's PM stepper motors are widely applied in many innovative applications, including: computer equipment, photographic systems, optoelectronic devices, valve control, ATM equipment, CNC machine, automatic winding machines, electronic clocks and medical equipment, etc.
20BY25-007 Permanent Magnet Stepper motor Parameters
MODEL
ITEMS
SPEC
20BY25-007

Driving Voltage

6±10%VDC

Phase

2

Exciting Method

2-2

Exciting Mode

Bipolar

Steo Angle

18°

Rotor Inertia

0.06gcm²

Rotation

CW/CCW

Resistance

10±7%Ω(25°C)

Inductance

7±20%mH

Max.pull-in Frequency

500Hz

Max.pull-out Frequency

700Hz

Holding Torque

50gf.cm

Detent Torque

14gf.cm

Insulation Resistance

100MΩ 500VDC

Noise

≤40dB
Drawing of 20BY25-007 permanent magnet stepper motor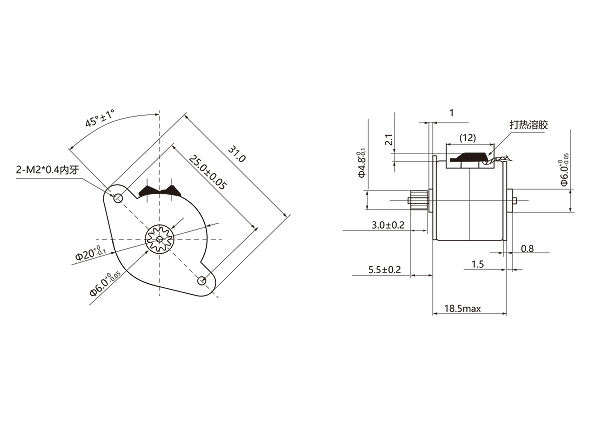 Applications of Stepper Motor
• 3D printing equipment
• barrier gate
• Printing presses
• Automatic toilet seat cover
• Electric tailgate
• Nano sprayer
• Vending machines
• Aircraft – In the aircraft industry, stepper motors are used in aircraft instrumentations, antenna and sensing applications, and equipment scanning
• Automotive – The automotive industry implements stepper motors for applications concerning cruise control, sensing devices, and cameras. The military also utilizes stepper motors in their application of positioning antennas
• Chemical – The chemical industry makes use of stepper motors for mixing and sampling of materials. They also utilize stepper motor controllers with single and multi-axis stepper motors for equipment testing
• Consumer Electronics and Office Equipment – In the consumer electronics industry, stepper motors are widely used in digital cameras for focus and zoom functionality features. In office equipment, stepper motors are implemented in PC-based scanning equipment, data storage drives, optical disk drive driving mechanisms, printers, and scanners
• Gaming – In the gaming industry, stepper motors are widely used in applications like slot and lottery machines, wheel spinners, and even card shufflers
• Industrial – In the industrial industry, stepper motors are used in automotive gauges, machine tooling with single and multi-axis stepper motor controllers, and retrofit kits which make use of stepper motor controllers as well. Stepper motors can also be found in CNC machine control
• Medical – In the medical industry, stepper motors are utilized in medical scanners, microscopic or nanoscopic motion control of automated devices, dispensing pumps, and chromatograph auto-injectors. Stepper motors are also found inside digital dental photography (X-RAY), fluid pumps, respirators, and blood analysis machinery, centrifuge
• Scientific Instruments –Scientific equipment implement stepper motors in the positioning of an observatory telescope, spectrographs, and centrifuge
• Surveillance Systems – Stepper motors are used in camera surveillance
How to distinguish Dc motor, AC motor, stepper motor and servo motor from the definition

DC motors, AC motors, stepper motors, and servo motors can be distinguished by definition:

1. What is a DC motor?
Answer: A rotating motor whose output or input is DC power is called a DC motor.

2. What is an AC motor
Answer: A rotating motor whose output or input is AC electric energy is called an AC motor.

3. What is a stepper motor
Answer: It is an actuator that converts electrical pulses into angular displacement. In layman's terms: When the stepper driver receives a pulse signal, it drives the stepper motor to rotate a fixed angle (ie step angle) in the set direction. You can control the angular displacement by controlling the number of pulses, so as to achieve accurate positioning; at the same time, you can control the speed and acceleration of the motor rotation by controlling the pulse frequency, so as to achieve the purpose of speed regulation. There are three types of stepping motors: permanent magnet stepping motors (PM), reactive stepping motors (VR) and hybrid stepping motors (HB). Permanent magnet stepping motors are generally two-phase, with small torque and volume, and the step angle is generally 7.5 degrees or 15 degrees; reactive stepping motors are generally three-phase, which can achieve large torque output, and the step angle is general It is 1.5 degrees, but the noise and vibration are very large, and it has been eliminated in the 1980s in developed countries such as Europe and the United States; hybrid stepping motor refers to the advantages of mixing the permanent magnet type and the reactive type, and it is divided into two-phase and five-phase : The two-phase stepping angle is generally 1.8 degrees and the five-phase stepping angle is generally 0.72 degrees. This kind of stepping motor is the most widely used.

4. What is a servo motor
Answer: The servo motor is also called the executive motor. In the automatic control system, it is used as an actuator to convert the received electrical signal into the angular displacement or angular velocity output on the motor shaft. It is divided into two categories: DC and AC servo motors. Its main feature is that there is no rotation when the signal voltage is zero, and the speed decreases at a uniform speed as the torque increases.

stepper motor BLDC motor Step Motor 步进电机 龙岗网站建设 深圳seo 自贡灯会 净水器厂家 自贡净水器 泉州净水器 珠海净水器 天津净水器 重庆净水器 沈阳净水器 杭州净水器 汕头净水器 苏州净水器 温州净水器 宁波净水器 昆山净水器
Looking for ideal 20BY25 Manufacturer & supplier ? We have a wide selection at great prices to help you get creative. All the 20BY25 Stepper Motor are quality guaranteed. We are China Origin Factory of 20BY25-007 Stepper Motor. If you have any question, please feel free to contact us.