35BYJ46-080 Reduction Stepper Motor
is a type of Gear reduction motor and also belongs to Gear Motor.
Gear Reduction motor is a component of a gear reducer and a motor. This type of component is also commonly referred to as a gearbox motor or a geared motor. It is usually assembled and assembled by a professional reducer manufacturer.
Gear reduction motors are widely used in automatic mechanical equipment, especially in packaging machinery, printing machinery, corrugated machinery, color box machinery, conveying machinery, food machinery, three-dimensional parking equipment, automatic storage, three-dimensional warehouse, chemical, textile, dyeing and finishing equipment, etc. Micro gear reduction motors are also widely used in the fields of electronic locks, optical equipment, precision instruments and financial equipment.
35BYJ46-080 Reduction Stepper Motor Parameters
MODEL
ITEMS
SPEC
35BYJ46-080

Rated Voltage

12VDC

Phase

4

Reduction Ratio

1/85

Steo Angle

7.5°

Exciting Method

1-2

Direct-current Resistance

130Ω±10%(25°C)

No-load pull-in Frequency

≥750Hz

No-load pull-out Frequency

≥850Hz

pull-in Torque

≥1000gf.cm (12VDC,100Hz)

Detent Torque

≥50mN.m

Insulation Resistance

≥50MΩ 500VDC

Dielectric Strenght

600VAC(min)

Insulation Class

B

Noise

≤40dB

Friction Torque

60-294mN.m

Terminal Sec

5P*2.54
Drawing of 35BYJ46-080 Reduction Stepper motor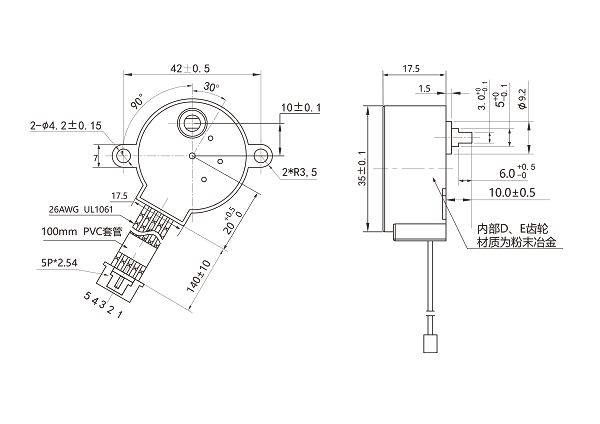 Applications of Stepper Motor
• 3D printing equipment
• barrier gate
• Printing presses
• Automatic toilet seat cover
• Electric tailgate
• Nano sprayer
• Vending machines
• Aircraft – In the aircraft industry, stepper motors are used in aircraft instrumentations, antenna and sensing applications, and equipment scanning
• Automotive – The automotive industry implements stepper motors for applications concerning cruise control, sensing devices, and cameras. The military also utilizes stepper motors in their application of positioning antennas
• Chemical – The chemical industry makes use of stepper motors for mixing and sampling of materials. They also utilize stepper motor controllers with single and multi-axis stepper motors for equipment testing
• Consumer Electronics and Office Equipment – In the consumer electronics industry, stepper motors are widely used in digital cameras for focus and zoom functionality features. In office equipment, stepper motors are implemented in PC-based scanning equipment, data storage drives, optical disk drive driving mechanisms, printers, and scanners
• Gaming – In the gaming industry, stepper motors are widely used in applications like slot and lottery machines, wheel spinners, and even card shufflers
• Industrial – In the industrial industry, stepper motors are used in automotive gauges, machine tooling with single and multi-axis stepper motor controllers, and retrofit kits which make use of stepper motor controllers as well. Stepper motors can also be found in CNC machine control
• Medical – In the medical industry, stepper motors are utilized in medical scanners, microscopic or nanoscopic motion control of automated devices, dispensing pumps, and chromatograph auto-injectors. Stepper motors are also found inside digital dental photography (X-RAY), fluid pumps, respirators, and blood analysis machinery, centrifuge
• Scientific Instruments –Scientific equipment implement stepper motors in the positioning of an observatory telescope, spectrographs, and centrifuge
• Surveillance Systems – Stepper motors are used in camera surveillance
【Industry Encyclopedia】
The Best Employer Visit丨Shenzhen Zhengde Intelligent Control Co., Ltd.

❖Visit and review❖

Under the guidance of Shenzhen Human Resources and Social Security Bureau, Shenzhen Small and Medium Enterprise Service Bureau, Shenzhen Federation of Industry and Commerce (General Chamber of Commerce), Shenzhen Public Service Alliance for Small and Medium Enterprises, Shenzhen Small and Medium Enterprise Service Platform, Shenzhen Yanyan Network Co., Ltd. The company co-hosted the selection of the 7th Shenzhen Best Employers for SMEs in 2020. At 10:30 on the morning of August 26, a total of 9 teachers and representatives of the organizer of the Best Employers Organizing Committee visited Shenzhen Zhengde Intelligent Control Co., Ltd. (hereinafter referred to as Zhengde) to visit and evaluate.


❖Participants❖

Participants of the Secretariat of the Best Employers Organizing Committee
Shao Qi, Huang Yan, Xu Liang,
Chen Jianxun, Liu Yadi, Guo Zhenyuan

Participants of the expert group:
Hong Helin, Li Yuanting, Zhou Cheng

Zhengde attendees:
Jiang Xutao, Zhou Xiaohua, Nie Zongshu,
Liu Xianqing, Ke Zhichun


❖Activity Features❖

❶ Visit offline. Senior experts face-to-face with the company to discuss the development of the company.
❷ Online rating. High-tech information platform, paperless, saving manpower, improving efficiency, and easy to operate.
❸ Online and offline integration. Fair, open and just.


❖Company profile❖

Zhengde, an innovative technology enterprise with independent intellectual property rights.
The existing plant area is about 26,000 square meters, the net assets are over 100 million yuan, there are nearly 1,000 employees, more than 30 production lines, and an annual output of more than 35 million units. It has successively passed ISO9001, TS16949, ISO14000 and other quality system certifications, and constantly utilizes the advantages of technology and parts manufacturing to develop high-quality, cost-effective motor products. The product quality qualification rate exceeds 99%. Product sales cover more than 20 countries and regions around the world.


❖Core strengths❖

❶ Strong production scale:
It covers an area of about 26,000 square meters, with total assets of more than 100 million yuan, more than 800 employees, nearly 100 middle and senior technical personnel, and annual motor output of more than 35 million units;
The complete company structure has passed ISO9001, TS16949, ISO14000 and other quality management system certifications and various safety product certifications. The materials are selected and the craftsmanship is sophisticated.

❷ Advanced independent research and development technology:
Won the title of National High-tech Enterprise and Shenzhen High-tech Enterprise;
Introduce the world's leading Japanese Fuji Micro precision motor design, development and new material application technology;
Cooperative development by scientific research institutions within the United Nations to achieve the transformation of outstanding technological achievements;
Actively carry out independent innovation and have dozens of invention patents and various intellectual property rights.

❸ Perfect management service system:
24-hour quick response mechanism to meet the individual needs of customers;
Have a professional market development team, including a number of market specialists and technical experts from Japan, Taiwan, Hong Kong and other countries and regions;
On-time delivery rate of products ≥98%, customer complaint rate ≤2, customer satisfaction survey score ≥90 points.


❖Honor Qualifications❖

Zhengde strives to do a good job of its own business, while always keeping in mind its social responsibilities, supporting regional economic development and social sharing of corporate development results. Integrity management, tax payment according to regulations, environmental protection production, truly responsible to the society, to all shareholders and every employee of the company.
Zhengde's practice of actively giving back to the society has also reaped many social honors.


❖Conclusion❖

Through the introduction of the company, we learned that the chairman of the board of directors cared for the grassroots employees and tried his best to provide them with a comfortable office environment; the senior staff took a series of measures to reduce the turnover rate and put an end to labor disputes; because Zhengde attaches great importance to social responsibility , Actively organize employees to participate in various public welfare activities.
In the process of free communication, Mr. Jiang and Mr. Nie respectively raised questions about the status quo of the company and had heated discussions with experts. The experts put forward targeted suggestions on employee performance, talent attraction and retention, and performance management. The leaders of Shenzhen Business Federation also gave their own Suggestions. We believe that Zhengde will take the sharp edge out of the sheath and create a better tomorrow.


Dc motor stepping motor DC motor 齿轮减速机 深圳网站建设 深圳seo优化 仿真恐龙制作 净水器代理 自贡净水器批发 厦门净水器 珠海净水器代理 天津净水器代理 重庆净水器代理 沈阳净水器代理 杭州净水器代理 汕头净水器代理 苏州净水器代理 温州净水器代理 宁波净水器代理 昆山净水器代理
Looking for ideal Air Conditioning Motor Manufacturer & supplier ? We have a wide selection at great prices to help you get creative. All the
air conditioner blower motor
Cost are quality guaranteed. We are China Origin Factory of Aircon Motor Compressor. If you have any question, please feel free to contact us.