28BYJ48-118A Reduction Stepper Motor
is a type of Gear reduction motor and also belongs to Gear Motor.
Gear Reduction motor is a component of a gear reducer and a motor. This type of component is also commonly referred to as a gearbox motor or a geared motor. It is usually assembled and assembled by a professional reducer manufacturer.
Gear reduction motors are widely used in automatic mechanical equipment, especially in packaging machinery, printing machinery, corrugated machinery, color box machinery, conveying machinery, food machinery, three-dimensional parking equipment, automatic storage, three-dimensional warehouse, chemical, textile, dyeing and finishing equipment, etc. Micro gear reduction motors are also widely used in the fields of electronic locks, optical equipment, precision instruments and financial equipment.
28BYJ48-118A Reduction Stepper Motor Parameters
MODEL
ITEMS
SPEC
28BYJ48-118A

Rated Voltage

5VDC

Phase

4

Reduction Ratio

1/64

Steo Angle

5.625°

Exciting Method

1-2

Direct-current Resistance

21Ω±10%(25°C)

No-load pull-in Frequency

≥500Hz

No-load pull-out Frequency

≥1000Hz

pull-in Torque

≥90mN.m(5VDC.400Hz)

Detent Torque

≥50mN.m

Insulation Resistance

≥50MΩ 500VDC

Dielectric Strenght

600VAC(min)

Insulation Class

B

Noise

≤40dB

Friction Torque

60-294mN.m

Terminal Sec

5P*2.5
Drawing of 28BYJ48-118A Reduction Stepper motor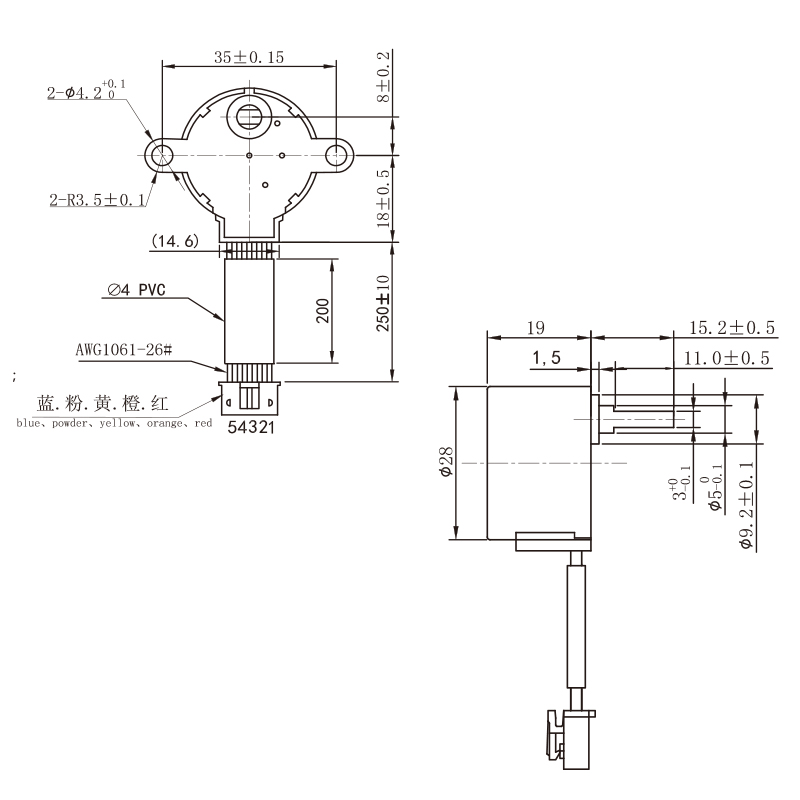 Applications of Stepper Motor
• 3D printing equipment
• barrier gate
• Printing presses
• Automatic toilet seat cover
• Electric tailgate
• Nano sprayer
• Vending machines
• Aircraft – In the aircraft industry, stepper motors are used in aircraft instrumentations, antenna and sensing applications, and equipment scanning
• Automotive – The automotive industry implements stepper motors for applications concerning cruise control, sensing devices, and cameras. The military also utilizes stepper motors in their application of positioning antennas
• Chemical – The chemical industry makes use of stepper motors for mixing and sampling of materials. They also utilize stepper motor controllers with single and multi-axis stepper motors for equipment testing
• Consumer Electronics and Office Equipment – In the consumer electronics industry, stepper motors are widely used in digital cameras for focus and zoom functionality features. In office equipment, stepper motors are implemented in PC-based scanning equipment, data storage drives, optical disk drive driving mechanisms, printers, and scanners
• Gaming – In the gaming industry, stepper motors are widely used in applications like slot and lottery machines, wheel spinners, and even card shufflers
• Industrial – In the industrial industry, stepper motors are used in automotive gauges, machine tooling with single and multi-axis stepper motor controllers, and retrofit kits which make use of stepper motor controllers as well. Stepper motors can also be found in CNC machine control
• Medical – In the medical industry, stepper motors are utilized in medical scanners, microscopic or nanoscopic motion control of automated devices, dispensing pumps, and chromatograph auto-injectors. Stepper motors are also found inside digital dental photography (X-RAY), fluid pumps, respirators, and blood analysis machinery, centrifuge
• Scientific Instruments –Scientific equipment implement stepper motors in the positioning of an observatory telescope, spectrographs, and centrifuge
• Surveillance Systems – Stepper motors are used in camera surveillance
【Industry Encyclopedia】

A cloud-piercing arrow will meet each other

Shenzhen Zhengde Intelligent Control Co., Ltd. was established in 2012 and is an innovative technology enterprise with independent intellectual property rights. As a national high-tech enterprise and Shenzhen high-tech enterprise, since its establishment, Zhengde Intelligent Controls has adhered to market and customer demand as the guide, with the goal of continuously improving the company's innovation capabilities and sustainable development capabilities, and giving full play to outstanding foreign R&D teams and domestic advanced scientific research. The institute's technical resource advantage provides global customers with efficient, convenient, and environmentally friendly motor and drive control system comprehensive solutions, and promotes the progress of the mechatronics industry with excellent quality management systems and innovative development concepts; as the company expands its business, it is now Facing the society, we are looking for the following personnel:

1. Recruitment

1. General workers: 100
Requirements: 1) No gender limit, good health and good eyesight; 2) Age requirement: 18-38 years old; 3) Obey the arrangement and work actively.

2. Quality inspectors: 20
Requirements: 1) Men and women are not restricted, with more than one year of relevant experience;
2) Obey the arrangement and work actively.


2. Salary and benefits:

Salary range: above 5000

Welfare system: five insurances + extra accommodation allowance + cafeteria + monthly assessment + job allowance + holiday benefits + birthday gifts + employee activities, etc.

Hourly wage system, this salary is calculated in accordance with the labor law; income is based on the actual attendance and overtime of the month; salary is paid on the 30th of each month.


3. Benefits of the welfare system:
1. Cafeteria, garden-like working environment, convenient transportation and shopping, five insurances are purchased immediately upon entry;
2. Enjoy various holiday benefits;
3. The company provides a complete training system (such as: new employee induction training, professional technical training, equipment basic knowledge training, safety training and other rich training courses) to help employees grow on the job;
4. Abundant employee activities (such as birthday parties, team building activities, outreach activities, various ball games, knowledge and skill competitions, etc.);
5. The company provides Shenzhen residents with public rental housing for talents;
6. The company provides a complete salary structure.


stepper motor BLDC motor Step Motor 步进电机 龙岗网站建设 深圳seo 自贡灯会 净水器厂家 自贡净水器 泉州净水器 珠海净水器 天津净水器 重庆净水器 沈阳净水器 杭州净水器 汕头净水器 苏州净水器 温州净水器 宁波净水器 昆山净水器
Looking for ideal Air Conditioner
Fan Motor
Manufacturer & supplier ? We have a wide selection at great prices to help you get creative. All the Air Cond Blower are quality guaranteed. We are China Origin Factory of blower motor in AC Unit. If you have any question, please feel free to contact us.